New Scientist Live Trip-
Thursday 10th October 2019
"We had the opportunity to attend New Scientist Live at the Excel London for the second year and it was an amazing experience. We visited the moon and even had an opportunity to smell it (which we would not recommend) and we were lucky to watch a talk by the astronaut Tim Peake about life in space and the future of space travel. Alongside, we met a few NHS surgeons who talked us through the future of surgeries and we tried some of their instruments. We hopefully now have future doctors in the making! It was a brilliant day out!" - Miss Bakdoud
Harvest Festival Display- October 2019
This year, our lovely Year 6's have taken part in The Politics Project's Digital Surgeries this year with local councilors and MP Barry Gardiner.
Click on the link to see their Youtube video promoting the Digital Surgeries:
International School Award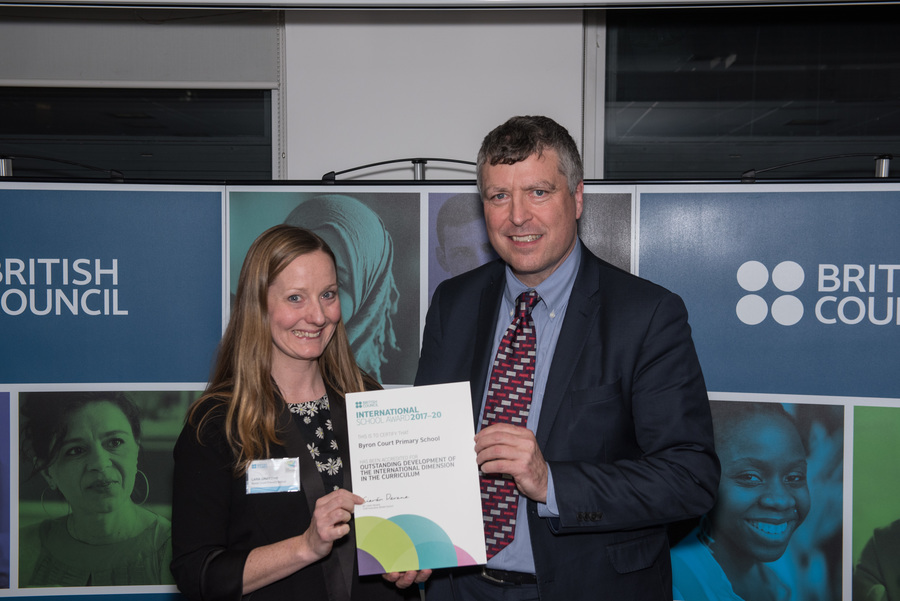 Byron Court has received the prestigious badge of honour, presented by the British Council. The International School Award is a globally recognised accreditation that helps to enrich teaching and improve learning.
After school on the 25th of September 240 adults and children of Byron Court enjoyed a wide range of exciting maths and science activities run by the members of staff. Those who attended enjoyed various activities, including maths games, maths art, making catapults, naming the newly discovered planet, a water obstacle course, ICT games, how to clean water, engineering challenges, match the animals footprints and making rocket men. We even had a visit from Jo, one of the Northwick Park Community Garden trustees, who helped us plant mini-gardens in compostable pots. It was amazing to see so many enjoying the STEM activities and wonderful to soak up the exciting atmosphere. Thank you to all of those who attended and for the positive feedback. We can't wait for the next STEM Parent Workshop!
Boys Kwik Cricket-London Youth Games
On Tuesday 26th June, the boys' cricket team, accompanied by Mr Jeffrey and Mr Randeria travelled by minibus to Shepherds Cot in Highgate for the London Games final, together with 31 champion teams from other boroughs.
During diversity week we wanted children to learn about prominent people from past to present with a focus on Black History, women and other cultures. Each year group chose a person or a few people to focus on who have influenced the world in a positive way- we hope to give children role models to inspire them!
During the week we had a visit from the Willesden Library who talked to us about the Windrush and showed us some artifacts that people had brought over with them. We workshops based around African stories with drums and dance.
Byron Court enjoyed an amazing World Book week with children dressing up in costumes and characters from their chosen books. A great effort was made from children and the staff!
A very big thank you to all the Parent volunteers that also participated this year. Some came in traditional dress and even brought in props to read to the children in different languages, celebrating Byron Court's diversity in language and culture.
See Year 6's amazing doors..