Boys Kwik Cricket-London Youth Games
On Tuesday 26th June, the boys' cricket team, accompanied by Mr Jeffrey and Mr Randeria travelled by minibus to Shepherds Cot in Highgate for the London Games final, together with 31 champion teams from other boroughs.
This year, our lovely Year 6's have taken part in The Politics Project's Digital Surgeries this year with local councilors and MP Barry Gardiner.
Click on the link to see their Youtube video promoting the Digital Surgeries:
The Black Caribbean Parents Meeting
We had our first Black Caribbean Parents meeting on Thursday the 13th of July. We were really impressed with the passion and commitment displayed at the meeting and are really looking forward to our next meeting. We will arrange our next meeting for September/October.
The presentation is available on our Workshops page. Thanks again, Mr Mead.
A very well done to our Byron Court QuadKids team who came 2nd out of 17 schools at the QuadKids tournament.
Byron Court enjoyed an amazing World Book week with children dressing up in costumes and characters from their chosen books. A great effort was made from children and the staff!
A very big thank you to all the Parent volunteers that also participated this year. Some came in traditional dress and even brought in props to read to the children in different languages, celebrating Byron Court's diversity in language and culture.
See Year 6's amazing doors..
This year we wanted to celebrate Diwali with the whole school community! We had drumming, art displays, singing from the choir, mendi and traditional snacks made by some of our parents. There was art work to paint and colour whilst we celebrated with friends.
We would like to give a special thank you to the parents and volunteers that helped us put our Diwali celebration together this year.
Byron Court Primary School has been celebrated under a new programme set up by the Mayor of London, Sadiq Khan, to recognise exceptional schools in the capital. Schools for Success is part of the Mayor's drive to help tackle education inequality and increase standards for all school children across the capital, whatever their background. Read full article
This year the theme for Fairtrade fortnight is to 'Come on in to Fairtrade' to stand with farmers and close the door on exploitation. We were asked to invite others to our Fairtrade Fortnight events and show them the difference that Fairtrade can make.
On Friday 9th March we were fortunate to receive a visit from Marcial Quintero, a member of Coobana, a Fairtrade banana co-operative in Panama, which was organised by the Fairtrade Foundation.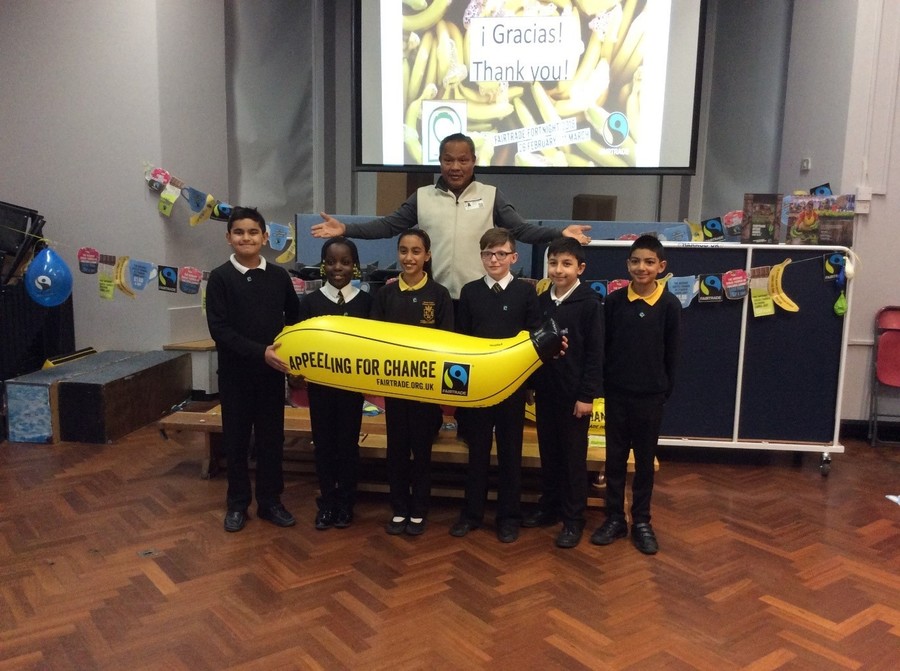 During diversity week we wanted children to learn about prominent people from past to present with a focus on Black History, women and other cultures. Each year group chose a person or a few people to focus on who have influenced the world in a positive way- we hope to give children role models to inspire them!
During the week we had a visit from the Willesden Library who talked to us about the Windrush and showed us some artifacts that people had brought over with them. We workshops based around African stories with drums and dance.
International School Award
Byron Court has received the prestigious badge of honour, presented by the British Council. The International School Award is a globally recognised accreditation that helps to enrich teaching and improve learning.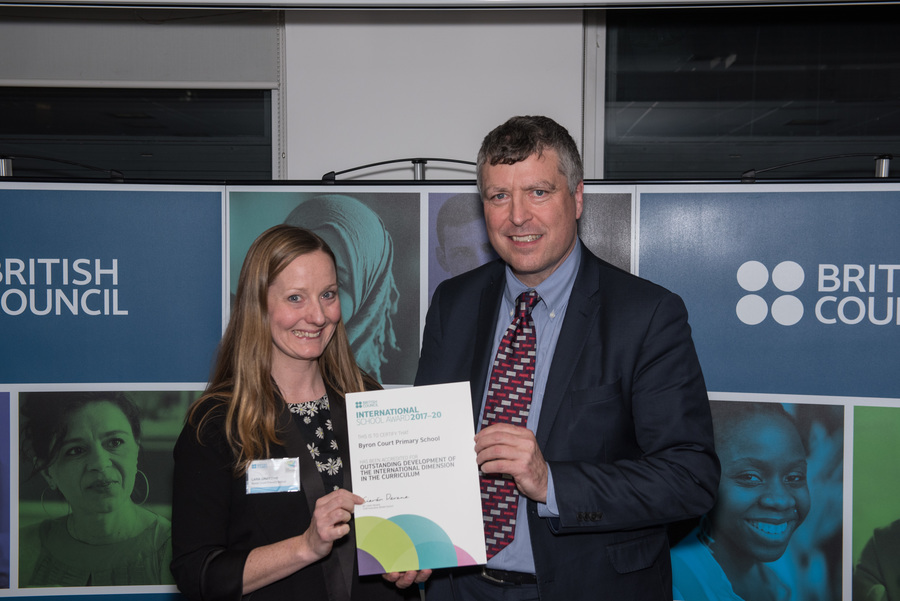 The whole school has thoroughly enjoyed dressing up in their animal inspired costumes as part of Earth Week. See RNM's pictures below.