National Young Mathmeticians' Award
Four of our year 6 children – Rida, Zara, Maahir and Rian - came in first place at the regional final of the Young Mathematicians' Award and have been put forward for consideration to be one of only five schools to compete in the national final. We are extremely proud of them for this excellent achievement!
Please read Rida and Maahir's experience of competing in the regional final:
'We were buzzing with excitement while we were travelling to Explore Learning, Wembley Central. We swiftly ate our lunch and put on our maths brains. Arduous and fun questions popped up in the challenge making it enjoyable. The challenge was called "Diag in a spiral", we had 55 minutes to complete the four challenges. We had a team of 4 people (Rida, Maahir, Zara, Rian) split into 2 groups swapping each person every 10 minutes. We had to make a grid to work out the specific numbers which had to be altered for the answer. Fortunately, we had completed all the questions in the limited amount of time. This was an amazing time to use our mathematical knowledge!'
International School Award
Byron Court has received the prestigious badge of honour, presented by the British Council. The International School Award is a globally recognised accreditation that helps to enrich teaching and improve learning.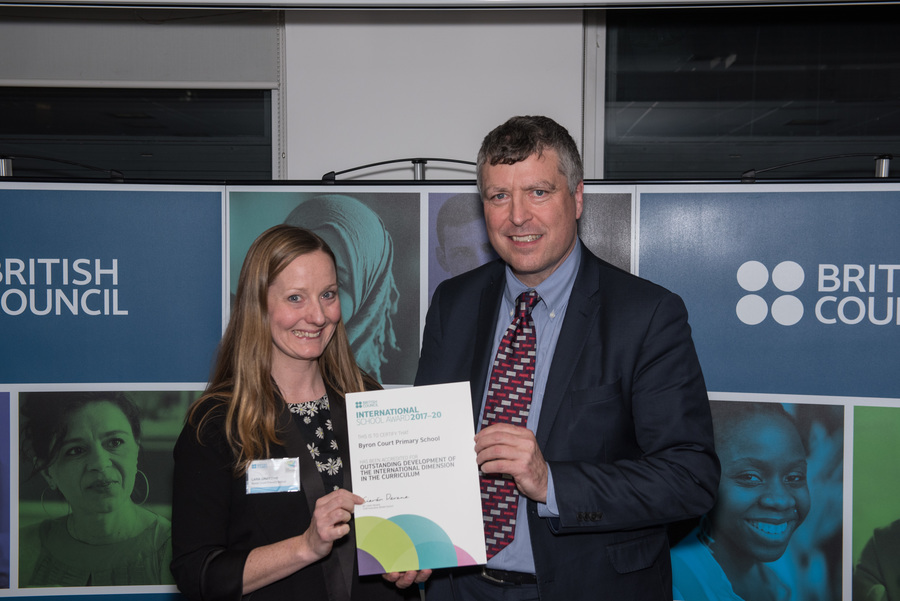 Winners of the Christmas Poster Competition
Congratulations to Sara Year 1 and Ranujan Year 4 for winning the poster competition! They each won a £5 gift voucher.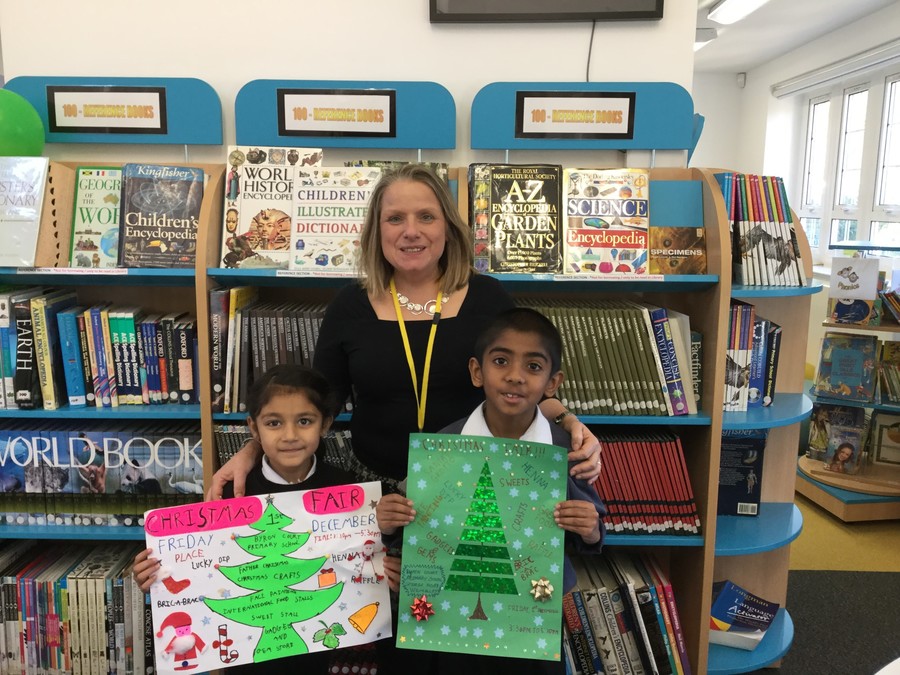 The camping trip was stimulating. Loved all the activities! The food was delicious and the tents were very comfortable. The setting was probably the best place to stay and it was a lovely day and we had great weather.
I thought the animals were cute. My favourites were the goats: Caramel, Spotty and Dotty. The evening feast was great (my favourite); we had hot chocolate. The fire was burning beautifully. At breakfast I have tried jam for the first time and I loved it. I enjoyed the photo at the end and all the toys we bought. The camping trip was awesome> I would love to go again. I loved it! AMAZING!
Reem 4JR
Byron Court Primary School has been celebrated under a new programme set up by the Mayor of London, Sadiq Khan, to recognise exceptional schools in the capital. Schools for Success is part of the Mayor's drive to help tackle education inequality and increase standards for all school children across the capital, whatever their background. Read full article
Year 5 Cycling Course
Some Year 5 children were lucky enough to take part in a cycling training course. Cycling instructors provided the children training on how to safely ride their bike on the road in controlled conditions, each child achieved their Bikeability level 2, some even level 3.
This year we entered 2 RHS gardening competitions, the first was The Budding Gardeners Competition, We created and planted up a mini show garden which was displayed at RHS Garden Wisley during the Summer Half Term, Saturday 27 May - Sunday 04 June. This year, to celebrate the 75th anniversary of the publication of Enid Blyton's Famous Five books, the theme was The Famous Five go on an Adventure! Our garden was called Five Venture Upon Byron Cove and it won a Silver Award.
The second event was the Schools' Scarecrow Competition, which was held at RHS Hampton Court Palace Flower Show from Tuesday 04 July - Sunday 09 July 2017. To celebrate the amazing variety of wildlife in Britain, this year's scarecrow theme was 'A Walk on the Wild Side' We created Cheeky Byron and accompanying him were hedgehogs, spiders a fox and blackbird.
Maths Workshop for parents
We had a great turnout for the Maths Mastery Workshop and coffee morning held by Mr Refson and Mr Behrooz. As you can see from the smiling faces below, it was a great session! Please click on the link below to see the presentation.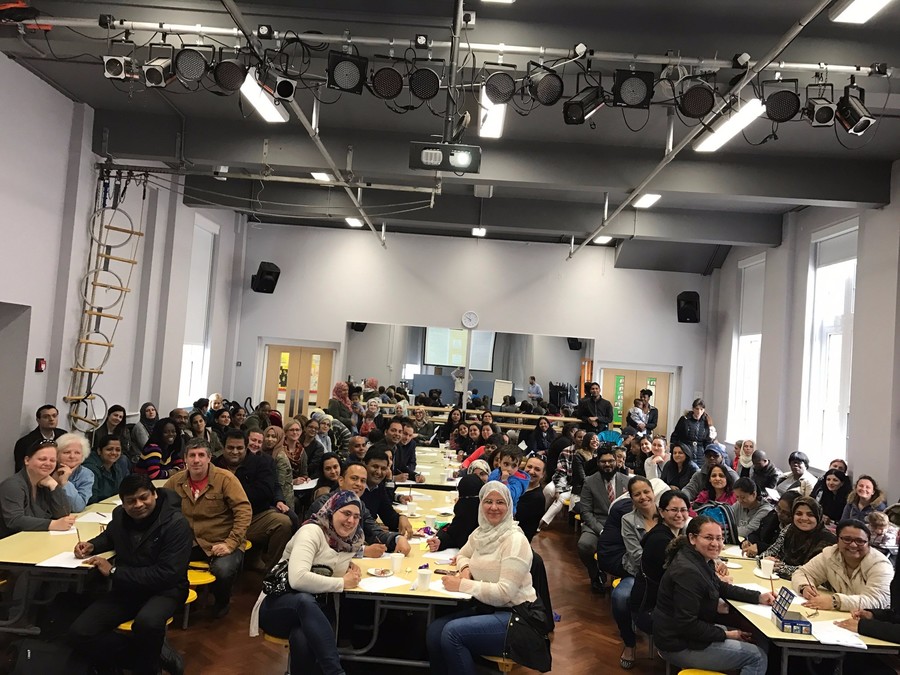 The children enjoyed a fun filled, full on Book Week here at Byron Court. The week got off to a start with some classes being fortunate enough to receive a visit from Brent Library. Cecil from 4SG reported, 'the class library visit was so much fun, we were allowed to try on outfits from World War 2, even though they were a bit itchy!' The activities continued with whole school buddy reading and some year 4 children were lucky enough to visit the Reception classes at Ashley Gardens. Joshua from 4SG said, 'Ashley Gardens was a great experience because my partner didn't run off anywhere and chose really interesting books.' Joe Friedman, the author of 'The Secret Dog', paid a visit to school and gave the children some top writing tips. World Book Day saw the arrival of characters from a variety of settings descend on Byron Court's doors. Well done to all the pupils, parents and staff for your fantastic efforts with your costumes, you all looked fantastic!
Last term saw Byron Court send through over 100 entries into the 'My Dream Journey' Competition along with thousands of others from across London.
Here are photos of the first prize, a brand new BICYCLE, being awarded to the winner
Congratulations!!!
On Friday 2nd December, the BCSA ran their annual Christmas Fair. There were a whole host of stalls selling cakes, food and presents, as well as fun games to play; Christmas crafts to make and face painting. Even Father Christmas made an appearance in the Grotto! This was the first time the BCSA have run such an event on a Friday and it was a huge success with record numbers of people in both the hall and the canteen. The BCSA work hard to plan exciting events like this every year in order to raise money for the school. Last year they were able to buy 30+ iPads for use in school as well as the large playground clocks. Thank you all for your support at these events.
We would welcome your feedback on hosting BCSA events on a Friday. Please contact: bcsa@live.co.uk
Bikeability Scooter Training
On Wednesday the 30th of November, Eddie from Bikeability came to do scooter training with Year 1. The children learnt how to control their scooters safely by following an obstacle course of cones and practiced stopping and starting at a traffic light. They all enjoyed it thoroughly. Rakshini from 1RS said, "It was so much fun, the time went so quickly!"
Armistice Day
A 2 minute silence was observed across the whole school on Friday 11th November to commemorate Armistice Day- marking the end of WW1. Pupils gathered in the playground and stood silently to mark the day of remembrance.
London Fairtrade Schools Conference
On Monday 10th October 2016, Mrs Khalfi, Mrs Sweeny, Mr Sawhney and 6 children from the Fairtrade Steering Group attended the London Fairtrade Schools Conference at Friends House in London.
The highlight of the conference was meeting two special guests from Ghana, Esther and Samuel who are from cocoa growing communities. Their parents are cocoa farmers and are members of Kuapa Kokoo, the Fairtrade co-operative that co-owns Divine Chocolate. Esther and Samuel came to the UK to talk to young people about how Fairtrade makes a difference to their lives. The conference also included workshops on Fairtrade cocoa, a make-your-own smoothie bike, and an opportunity to learn how to taste chocolate properly!
Kuapa Kids workshop was with Esther and Samuel, we listened to a presentation about how Fairtrade has changed the villages that they live in, and we were able to ask them questions about their lives.
We also attended a presentation on how the people of Malawi have been supported by Fairtrade to help them with their tea production. We had to imagine we had a budget of £1000 and decide how we would spend the money, it proved to be very difficult to make the right decisions.
We had great fun making our own recycled footballs in the Bala Sports presentation, and it was interesting to learn about how footballs are made in Pakistan and the support Fairtrade gives to the workers there.
Our final presentation, and our favourite one, was the Chocolate tasting session with Divine Chocolate, we had to smell, listen to and roll the chocolate over our tongue before eating it. A truly challenging task.
It was a very informative conference and the children in the Fairtrade Steering Group have acquired new facts and interesting ways to share their knowledge of Fairtrade with Byron Court. We had an enjoyable day out and returned to school with a few Fairtrade chocolate goodies.
Tim Peake Primary Project
Last year you may remember that we took part in the Rocket Science Project, run by the RHS and the UK Space Agency, and grew seeds that had been aboard the International Space Station with Major Tim Peake. We are excited to announce that the results of the huge science experiment can now be revealed! Overall it was found that on average, the Earth seeds grew better than the space seeds. The RHS think this is most likely caused by the space seeds being slightly affected by radiation while on board the ISS. Despite this, they still grew and that is great news as it means there is still potential to grow food on long-term missions, or even another planet in the future! The RHS have written and published a very special colourful report called 'Rocket Science: Our Voyage of Discovery' which is now available to download free from their website. The report contains the results, theories from pupils, comments from leading scientists, quotes, photos and a very special message from Tim. To download a copy of the report head here: https://schoolgardening.rhs.org.uk/RocketScience
Astronaut Tim Peake returned to Earth in June 2016 following his six month mission on the International Space Station (ISS). ESERO-UK, the UK Space Education Office, has created an exciting project for UK primary schools to get involved in, called the Tim Peake Primary Project (TPPP), and Byron Court are fortunate to be taking part in this exciting project.
The ESERO-UK Tim Peake Primary Project uses space to increase the engagement of primary school children with science, numeracy and literacy. Each school taking part has a Space Ambassador, who is part of an experienced group of educators with a passion for space and includes both space experts and those from a teaching background. Our Space Ambassador is Joy Stone.
On Tuesday 11th October we were fortunate to receive a visit from Joy and she brought a SOKOL Spacesuit for some of the lucky children and staff to try on. The SOKOL Spacesuit is a Russain Spacesuit that was worn by Tim Peake during his mission on the ISS.
Joy also attended the STEM after school activity at Byron Court, many children had fun trying to make Robotic Hands and parents and children alike tried to match photographs taken from the ISS with a map view of the same area. The Rocket Mice also proved to be an uplifting experience.
We will be carrying out many more exciting projects with Joy over the next few months.
Harvest Festival
2016
On Wednesday 6th October Byron Court held their Harvest Festival. We would like to thank everyone who kindly donated food. All the food we received is donated to the Sudbury Neighbourhood Centre. In the afternoon we held a Tea Party for the clients of the Sudbury Luncheon Club, we had over 20 guests and nine year six children acted as 'hosts', enjoying a few tasty cakes and sandwiches while talking to our guests. Mrs Misquita and the year six choir serenaded our guests with some rousing Harvest songs. It was a fun afternoon enjoyed by all.
Her Majesty Queen Elizabeth II Birthday Celebrations

To celebrate the Queen's 90th birthday, children were learning all about the Royal family and it's place in history.

Classes gathered on the field to have an afternoon picnic, wearing the colours red, white and blue. Thankfully, we had glorious weather and children enjoyed eating sandwiches and listening to the melodic sounds of famous pieces of English music.

See photos below.