The whole school has thoroughly enjoyed dressing up in their animal inspired costumes as part of Earth Week. See RNM's pictures below.
This year the theme for Fairtrade fortnight is to 'Come on in to Fairtrade' to stand with farmers and close the door on exploitation. We were asked to invite others to our Fairtrade Fortnight events and show them the difference that Fairtrade can make.
On Friday 9th March we were fortunate to receive a visit from Marcial Quintero, a member of Coobana, a Fairtrade banana co-operative in Panama, which was organised by the Fairtrade Foundation.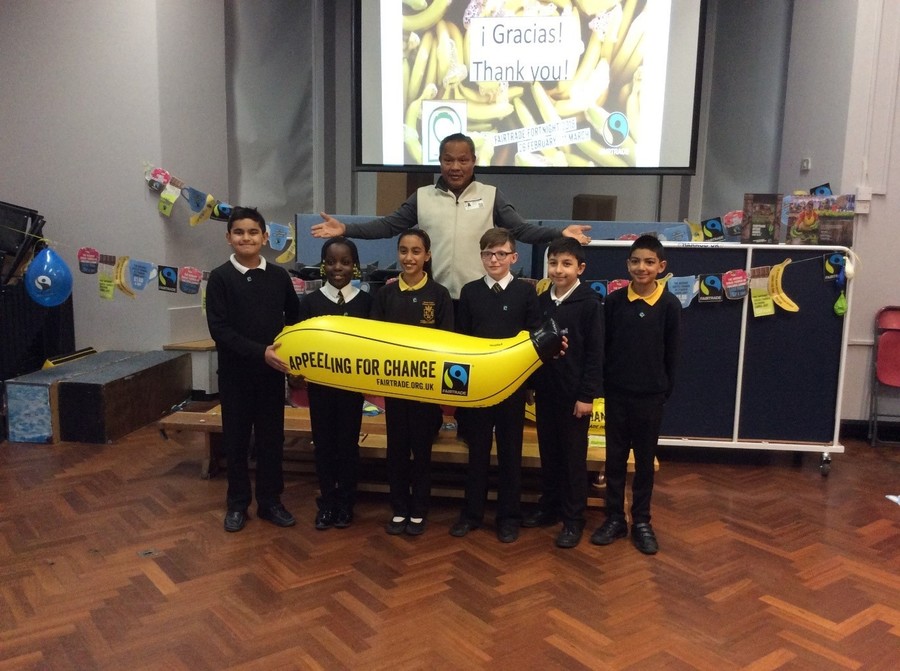 International Mother Tongue Day Wednesday 21st February 2018
Today children, staff and parents have enjoyed celebrating International Mother Tongue Day.
Songs, poems, stories, aspects of culture and language have been shared across the whole school.
Many parents have also come into school to help teach children their languages. This has been fascinating as children have had the opportunity to learn new languages and discuss similarities with languages they already know.
We also received visits from:
The Spanish Embassy - children and staff learnt new songs in Spanish The Brent Museum - children in 6KJ and 3CP took part in a workshop about Romanian Eggs.
A really memorable and enjoyable day! Thank you to all involved.
5NH created a bilingual story. See the video below...
Staff at Byron Court speak many languages too...
Year 5 Young Leaders:
Lunchtime Club
We are delighted to inform you about our new weekly lunchtime club where we (Year 5 pupils) teach Year 2 children different physical education activities.
We think the future of our club looks pretty bright and we are very impressed by how well the Year 2 children are picking it up and are thoroughly enjoying it.
We will be giving you more information every week from the Young Sports Leaders.
Pasun, Jasnain, Lily, Huzaifa, Grace, Hashir, Diana, Diyan, Shivam and Laksitha.
On 16th January 2018, it was Egyptian Day! We did various activities: making collars out of paper plates, making a pyramid with cocktail sticks and marshmallows (yum)!
Also, the Freshwater Theatre company did a show about an explorer in an Egyptian tomb. For Egyptian Day, we had to dress up as an Egyptian character. I dressed up as Cleopatra the VII. It was an awesome day! Everyone had fabulous costumes! I am proud of everyone for putting so much effort into their costumes.
Sita 4MM
Walking in my classroom that day was almost like walking to Egypt. Everyone was soo excited. When Miss told us to line up and go downstairs to create some Egyptian Crafts I was shivering with excitement.
Haider 4MM
International School Award
Byron Court has received the prestigious badge of honour, presented by the British Council. The International School Award is a globally recognised accreditation that helps to enrich teaching and improve learning.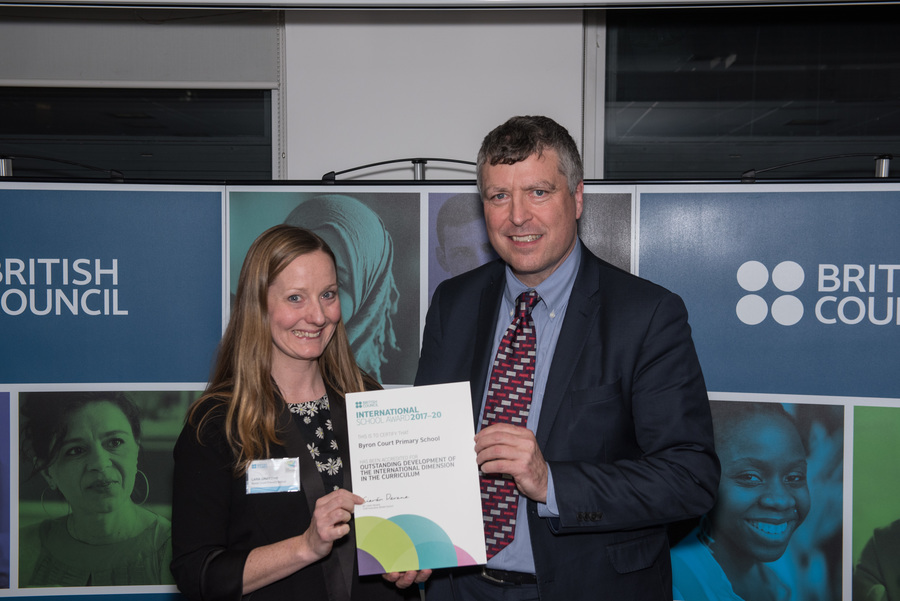 Winners of the Christmas Poster Competition
Congratulations to Sara Year 1 and Ranujan Year 4 for winning the poster competition! They each won a £5 gift voucher.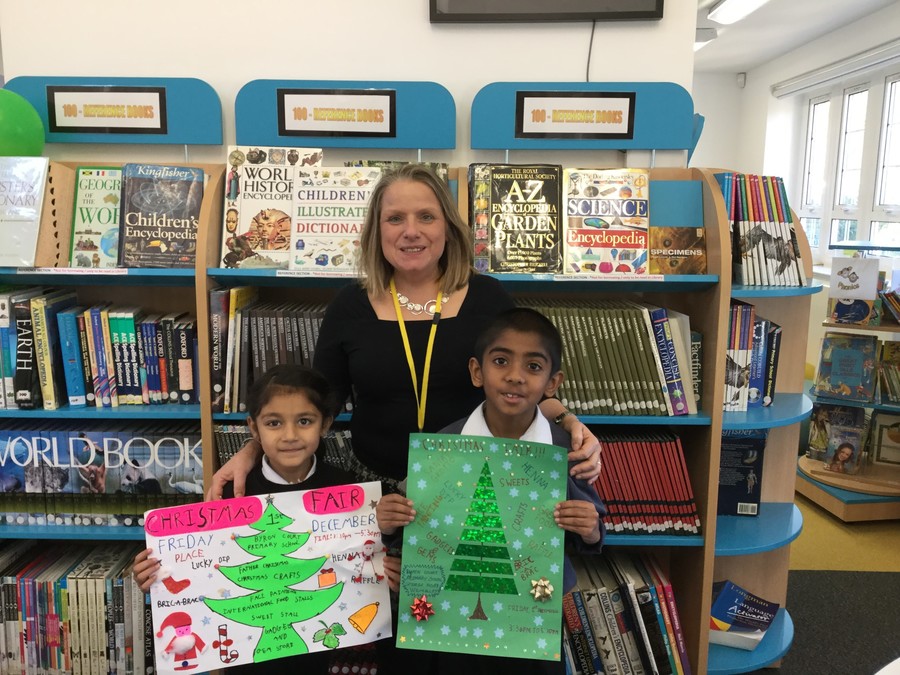 Year 5 Cycling Course
Some Year 5 children were lucky enough to take part in a cycling training course. Cycling instructors provided the children training on how to safely ride their bike on the road in controlled conditions, each child achieved their Bikeability level 2, some even level 3.
Byron Court celebrated World Book Week
commencing Monday 26th February 2018. This year we encouraged children to dress up in their pyjamas as our theme was 'being cosy and relaxed while you read'.
In addition, we hosted a book fair and had visit from parents & carers to come and read in and read or tell stories in different languages.
The children enjoyed a fun filled, full on Book Week here at Byron Court. The week got off to a start with some classes being fortunate enough to receive a visit from Brent Library. Cecil from 4SG reported, 'the class library visit was so much fun, we were allowed to try on outfits from World War 2, even though they were a bit itchy!' The activities continued with whole school buddy reading and some year 4 children were lucky enough to visit the Reception classes at Ashley Gardens. Joshua from 4SG said, 'Ashley Gardens was a great experience because my partner didn't run off anywhere and chose really interesting books.' Joe Friedman, the author of 'The Secret Dog', paid a visit to school and gave the children some top writing tips. World Book Day saw the arrival of characters from a variety of settings descend on Byron Court's doors. Well done to all the pupils, parents and staff for your fantastic efforts with your costumes, you all looked fantastic!
Byron Court Primary School has been celebrated under a new programme set up by the Mayor of London, Sadiq Khan, to recognise exceptional schools in the capital. Schools for Success is part of the Mayor's drive to help tackle education inequality and increase standards for all school children across the capital, whatever their background. Read full article
This year we entered 2 RHS gardening competitions, the first was The Budding Gardeners Competition, We created and planted up a mini show garden which was displayed at RHS Garden Wisley during the Summer Half Term, Saturday 27 May - Sunday 04 June. This year, to celebrate the 75th anniversary of the publication of Enid Blyton's Famous Five books, the theme was The Famous Five go on an Adventure! Our garden was called Five Venture Upon Byron Cove and it won a Silver Award.
The second event was the Schools' Scarecrow Competition, which was held at RHS Hampton Court Palace Flower Show from Tuesday 04 July - Sunday 09 July 2017. To celebrate the amazing variety of wildlife in Britain, this year's scarecrow theme was 'A Walk on the Wild Side' We created Cheeky Byron and accompanying him were hedgehogs, spiders a fox and blackbird.
We had a great turnout for the Maths Mastery Workshop and coffee morning held by Mr Refson and Mr Behrooz. As you can see from the smiling faces below, it was a great session!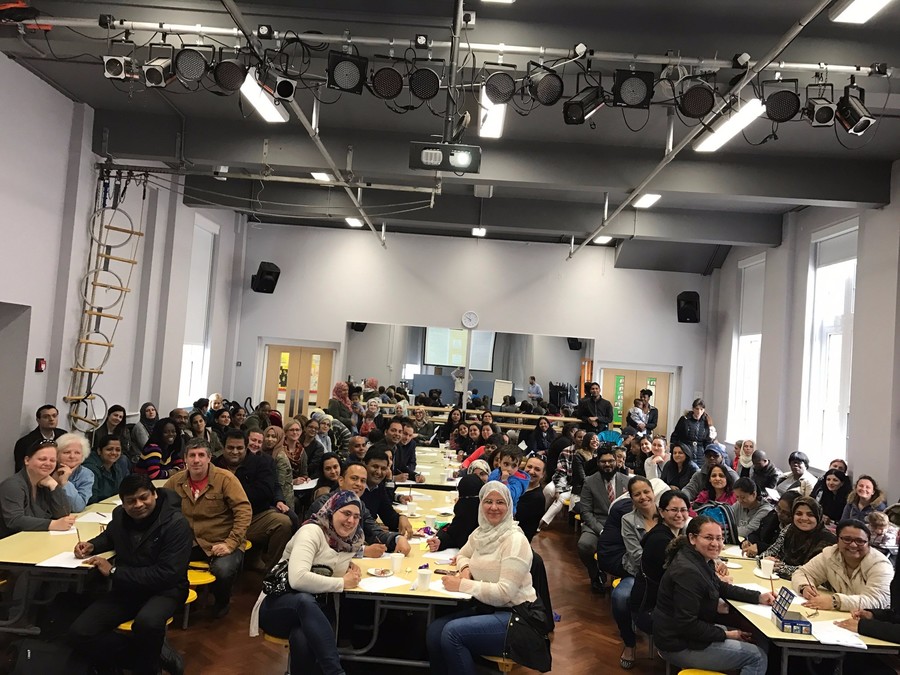 National Young Mathmeticians' Award
Four of our year 6 children – Rida, Zara, Maahir and Rian - came in first place at the regional final of the Young Mathematicians' Award and have been put forward for consideration to be one of only five schools to compete in the national final. We are extremely proud of them for this excellent achievement!
Please read Rida and Maahir's experience of competing in the regional final:
'We were buzzing with excitement while we were travelling to Explore Learning, Wembley Central. We swiftly ate our lunch and put on our maths brains. Arduous and fun questions popped up in the challenge making it enjoyable. The challenge was called "Diag in a spiral", we had 55 minutes to complete the four challenges. We had a team of 4 people (Rida, Maahir, Zara, Rian) split into 2 groups swapping each person every 10 minutes. We had to make a grid to work out the specific numbers which had to be altered for the answer. Fortunately, we had completed all the questions in the limited amount of time. This was an amazing time to use our mathematical knowledge!'
The camping trip was stimulating. Loved all the activities! The food was delicious and the tents were very comfortable. The setting was probably the best place to stay and it was a lovely day and we had great weather.
I thought the animals were cute. My favourites were the goats: Caramel, Spotty and Dotty. The evening feast was great (my favourite); we had hot chocolate. The fire was burning beautifully. At breakfast I have tried jam for the first time and I loved it. I enjoyed the photo at the end and all the toys we bought. The camping trip was awesome> I would love to go again. I loved it! AMAZING!
Reem 4JR
Last term saw Byron Court send through over 100 entries into the 'My Dream Journey' Competition along with thousands of others from across London.
Here are photos of the first prize, a brand new BICYCLE, being awarded to the winner
Congratulations!!!
On Friday 2nd December, the BCSA ran their annual Christmas Fair. There were a whole host of stalls selling cakes, food and presents, as well as fun games to play; Christmas crafts to make and face painting. Even Father Christmas made an appearance in the Grotto! This was the first time the BCSA have run such an event on a Friday and it was a huge success with record numbers of people in both the hall and the canteen. The BCSA work hard to plan exciting events like this every year in order to raise money for the school. Last year they were able to buy 30+ iPads for use in school as well as the large playground clocks. Thank you all for your support at these events.
We would welcome your feedback on hosting BCSA events on a Friday. Please contact: bcsa@live.co.uk
Her Majesty Queen Elizabeth II Birthday Celebrations

To celebrate the Queen's 90th birthday, children were learning all about the Royal family and it's place in history.

Classes gathered on the field to have an afternoon picnic, wearing the colours red, white and blue. Thankfully, we had glorious weather and children enjoyed eating sandwiches and listening to the melodic sounds of famous pieces of English music.

See photos below.