History of Byron Court
Byron Court was opened on 3rd November 1932
We hope you enjoy our old photos and documents and messages from ex-students - some from the other side of the globe!
The programme for the opening ceremony (1932)
The opening of the school was written about in the local newspaper (1932)
A photo from Byron Court in its early years! (1935-6)
Ex-student Mr Peter Rudge has kindly shared his form photo at Byron Court. In it is his class teacher Miss McWilliams and the Headteacher.
(1939-40)
Ex-student Robert Chapman was kind enough to share with us his school report from 1945!
Guestbook Message Added: July 20, 2012, 4:35 am
I attended Byron Court School from 1946 to 1951 and am delighted to see that the school is still around and doing so well after all those years.. The picture of the front entrance on this site brought back so many memories of those days. How many times I had walked from Paxford Road down that pathway to the school! I remember the playground and my classroom so well. Thank you Byron Court for giving me my start in life...
Margaret Potok née Pett, Mechanicsburg Pennsylvania USA
Guestbook Message Added: October 4, 2012, 1:58 pm
I attended Byron Court School from 1946 till 1949. I loved the school and wanted so much to learn. My teacher was Miss McWilliams and I believe she later left and went to Lyon Park Avenue School. I used to live in a prefab in Vaughn Terrace, off East Lane and used to walk to school every day! I would love to get in touch with any of my class mates even though I am sure I will not remember them. It is wonderful to see the school doing so well after all this time.
Nina Bayer nee Green., minard. scotland.
A Programme for Sports Day (1952)
Guestbook Message Added: January 24, 2012, 10:57 am
A most interesting site, which brings back many happy memories. I attended Byron Court between 1950 and 1956. The Head was Mr. Read and all my generation remember the magnificent Miss Leversuch.
Barry Nickels, Spofforth, North Yorkshire
...And the same spot 10 years later! (1964)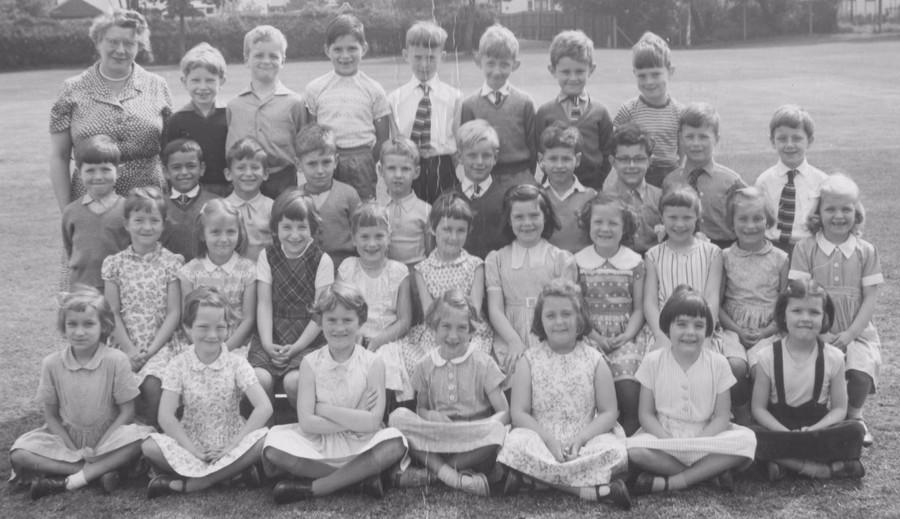 Class Photo (1964) from P. Richley
Byon Court Swimmers (1964)
Guestbook Message Added: February 21, 2012, 7:52 pm
Hi kids i am a past pupil, some 40years ago now. i chanced across a picture of your beautiful school and i had to visit and leave a message. work hard and you will find you have wonderful memories of the school as do i.wish best wishes to all pupils and staff.
Alison Gower, hampton hill, middx
Guestbook Message Added: July 18, 2012, 4:59 pm
I have just come across your web site. I was a pupil at Byron Court Primary School from 1968-1973 and have nothing but fond memories. The school had a swimming pool of its own in those days. Mr Ginn was Headmaster and my favourite teacher was Miss Townsend, who regaled us with stories of her time spent in Singapore! I went on to work at the House of Commons, had two children and now work as a Teaching Assistant at at small village school in Devon, where I have lived for the last ten years. It is lovely to see that my old school has continued to flourish over the last 40 years, and I wish you all continued success. As a school, you definitely set myself and my sister on the right path!
Sharon Carrino, Totnes, Devon
Byron Court Cricket Team (1975)
Guestbook Message Added: July 31, 2012, 9:23 pm
It is lovely to see the School being cared for and modernised. I went to Byron Court School through the 1970s and so did all my brothers and sisters (6 of us in total). To be able to go to the same school from 4 years upto 11 years was fantastic - I truely love Byron Court School and have many happy memories. Thank you for looking after it and the next generation of children to enjoy its wonder Teresa :)
Teresa Mitchell, England
Mr Kent and his Class (1975)
Guestbook Message Added: December 13, 2011, 2:22 pm
I went to the elementary school from 1977 to 1973 and my teacher was Evelyn Stokeley and the head teacher was Kenneth kane, I love and enjoy very much those years... thanks very much
Ramon Fabrega, Venezuela
Girls Football Team (1996)
Guestbook Message Added: January 5, 2012, 4:27 pm
I used to come to this school about 3yrs ago and i'm utterly suprised at how much the school has changed, I almost got lost coming into the school
Amar Gandhi, Wembley
Added: October 10, 2012, 5:39 am
I Love Byron Court.All The Teachers Of Byron Court Were Really Nice But My Best Teachers were Miss K Pritcard,Mr O'Sullivon And Mr Walch ,There Method Of Teaching Were Very Very Good.I Miss My Teachers.Now I Am In Pakistan But I Have Lots Of Good Memories Of Byron Court.Thanks You Byron Court Ahsan R Mubashir(PK)
Ahsan R Mubashir, Multan,Pakistan