Easter Art Competition
Easter Art Competition
3 April 2020 (by byroncourt)
Tate Paint!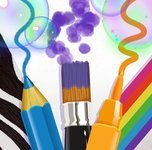 Dear Pupils of Byron Court,
Over the Easter holidays we are setting you a challenge! Using the Tate website, you are tasked with creating your own digital masterpiece. Each class will have a winner then that piece of artwork will go into a final round and a year group winner will be chosen! So take your time, practise different techniques and styles, think about what you want it look like and how you want someone to feel when they look at it.
Good luck and get creative!
​Deadline: Monday 20th April 3.30pm