Brent Hockey Tournament- 16th November 2017
Byron Court took a squad of 6 children to represent the school at the borough competition which took place at JFS on 16th November. They dominated the event scoring an impressive 18 goals and conceding just 1 in their 6 games!
Tyreece, Najma and Ehsan were too strong in defence to give any of the opposition even a sniff at goal. Meanwhile, up front, Dhyan (8), Heela (5) and Lillie (4) were at their devastating best as they put Mitchell Brook (3-0), Chalkhill (2-0), Fryent (4-1), Maple Walk (6-0) and Sudbury (3-0) to the sword.
A fantastic effort by all the children involved. They truly deserved their Gold medals and in the process added Byron Court's first trophy of the year to the cabinet.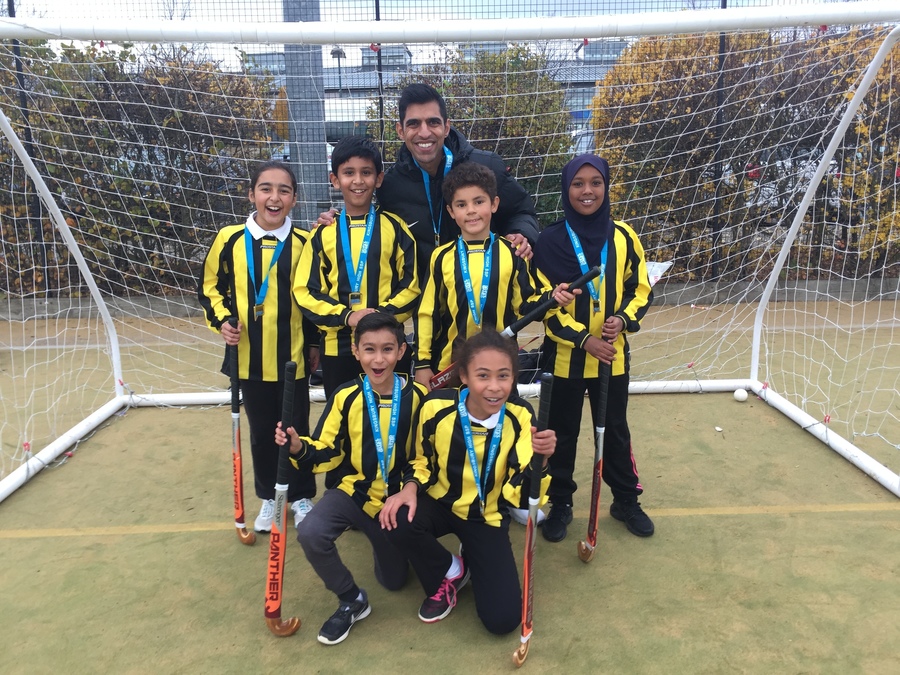 Brent Hockey Tournament –16th November 2016
On a freezing cold Wednesday afternoon, Byron Court took two teams to the annual Brent Hockey Tournament. Byron Court were defending champions and knew that meant this year every school would try even harder to beat them. Both teams showcased some excellent technical ability and skills and were able to register a couple of early big wins against their competitors. As the tournament entered the last fixture of games Byron Court 1 had confirmed fourth place, however Byron Court 2 still had a chance to win the event. It was against Sudbury, who were favourites, and despite going 1-0 down early on they continued to battle and push to the very end. Despite creating numerous opportunities to level, or even win the game, somehow the ball just did not go into the back of the net, meaning their final position was third, just one point off second and two points off third. Everyone that took part should be very proud of how they performed and carried themselves in some very frustrating and tricky circumstances.
The team: Byron Court 1 – Sophie, Alanah, Asad, Simeon, Konrad.
Byron Court 2 – Denisa, Jasmine, Tyrese, Romario, Rahul.
Brent Under 11's Quicksticks Hockey Tournament- Wednesday 24th February
Byron Court continued their domination of Primary Schools Sports this academic year as they added to their Tag Rugby and Basketball successes with Gold Medals at the Hockey Tournament as well. They travelled to the afternoon event at JFS school in high spirits.
Byron Court started off against reigning champions Sudbury, who they beat 3-0. This was followed by successive victories against St Mary Magdalene (2-1), Elsely (4-0) and Preston Park (3-0) before being held to a draw by St Joseph's. It meant Byron Court would have to win their final game to win the tournament. Despite a resolute performance from Gladstone Park, Byron Court won 3-0 and were not to be denied their first ever Brent Hockey success.
James scored top in the tournament with 12 goals. Captain Abhinav was male player of the tournament following solid defensive performances and Byron Court wingers Jada and Chloe were picked out as female players of the tournament. Byron Court will now go on to represent Brent as borough champions at the London Youth Games next week.
Yash, Anoj, Erina and Sharlize when called upon were also outstanding and the whole squad did their bit to win it for Byron Court!