Girls Football Tournament- Friday 1st December
Byron Court girls football team were invited to a Brent school girls festival run by Tottenham Hotspur Football Club as part of working association with the club. We took 2 teams to the event and faced 2 different schools, Stonebridge and Ark Academy, who also had 2 teams each.
Byron Court Blue and Byron Court Red played amazingly all afternoon and Miss Janger and Mr Jeffrey were very impressed with their resilience and collaboration with each other. Byron Court Blue finished 4th in the table with 5 points. Byron Court Red finished the tournament as the champions with 13 points, winning 4 matches and drawing 1 match with their peers; Byron Court Blue.
Lillie and Maja were also awarded medals for best players of the tournament. Lillie for her bravery as goal keeper, never backing down or hesitating from a challenge, and Maja for her determination and consistently going after every ball. This meant that all medals went to Byron Court, a fantastic achievement!
It was a truly incredible effort from all girls involved and we are extremely proud of all the girls for their achievements.
Byron Court Red Team: Shreya (capt), Lais, Amina, Bharvina, Amarya, Ritvika, Zara and Maja.
Byron Court Blue Team: Shruti (capt), Lillie, Kareena, Mercy, Melissa, Kyra and Lidia.
Goal scorers: Amarya (3), Ritvika (3), Maja (1)
Mercy (3), Kareena (1), Kyra (1)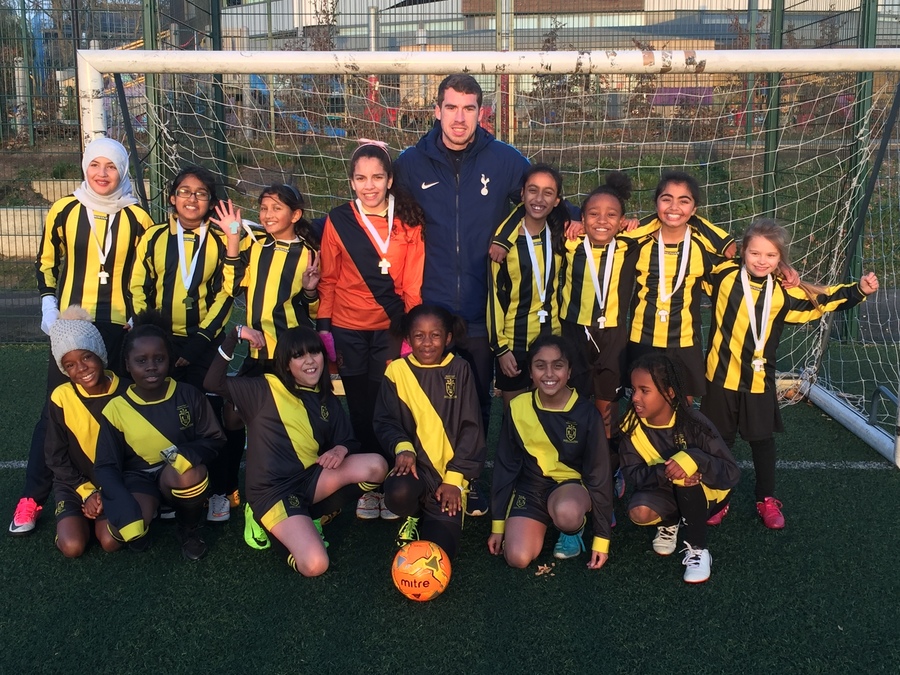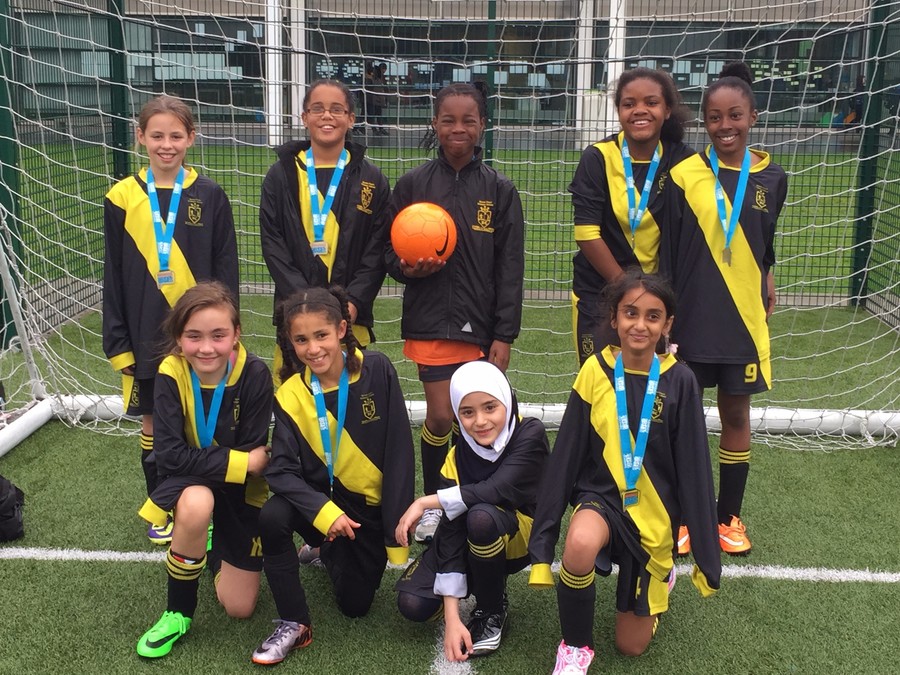 Capital City Academy Football Tournament
Wednesday 21st October 2015
Byron Court took 9 girls to a 7-a-side football tournament for Brent at Capital City Academy. This tournament was organised by our very own Mr Randeria and featured 12 schools from Brent. Each match lasted roughly 7 minutes straight through.
We played in Group B and first up we had Braintcroft. The girls, knowing that they were short matches, started brilliantly, dominating possession and keeping the ball in their opponents half. Zeyneb opened the scoring with a brilliant goal and then Chloe scored the second. The match ended 2-0 to us with our keeper Abigail never touching the ball. Second match was against Mora and our girls played exactly the same way that they had played before. They were playing for the win. Unfortunately Mora was determined that we were not going to get a goal and they sat back and defended. As much as we tried, we couldn't break the deadlock even though we were stuck in their half. The match ended 0-0 with Abigail again, not touching the ball all match. Our final group match was up against Lyon Park. Another team that just wanted to sit back and defend and not let us through. Two things changed from the previous match. Abigail touched the ball twice, she was very happy about that! We broke through the resistance with a fine goal from Shemoya, ensuring that we won our group with a total of 7 points and putting us through to the semi-final.
In the semi-final we played against Princess Frederica. Another match where we dominated possession but the opposition were putting all their players behind the ball. After some nervy minutes, we got through and Chloe smashed the winner into the back of net!
The final brought our arch rivals, St Joseph's. This game was hard and fast. The girls worked their socks off, back tracking and trying their very best to score an opening goal. Unfortunately St Joseph's decided to do what a lot of the other teams did and kept 4 players in front of their own goal. We went wide, we hit the cross bar, we could just not get that goal. The match ended 0-0 and the final had to be decided on penalties. Penalties are not the way we like to end a match but we gave it our all, with Chloe scoring the first penalty. Unfortunately it was not to be, even though Abigail saved a penalty, making her the only goalkeeper to actually do that. St Joseph's scored one more penalty than us, making us finish the tournament as runners-up.
The girls did extremely well and played their hearts out. Defence were amazing and ended the tournament with a clean sheet which is very hard to do. Our forwards were constantly on the ball creating chances to get their goals. The passing between the girls was very slick and their passion was strong and determined which caused them to impress everyone there, including the referees. Jada was named Player of the Tournament by the referees and received an extra medal along with the silver medal all the girls collected. Miss Janger, Miss Giddings and Miss Stanley are extremely proud of the girls and their efforts today. We also want to thank Mr Randeria for putting on an amazing tournament and we look forward to the next one.
Team: Naomi (capt), Abigail, Ana, Jada, Chloe, Shemoya, Zeyneb, Sienna and Kayla
Goals: Chloe (2), Shemoya (1), Zeyneb (1)
Girls' Football League match vs Sudbury
Friday 13th March 2015
After a long delay, we finally had another school to play in the league.
The girls straight away showed how happy they were to play a match by dominating from the start. They were constantly attacking the opposition and never gave up, even when they had other girls from the opposition crowding around them. Even though Sudbury had all their girls defending, it didn't stop the goals going in from Shemoya and Chloe, on her debut for the girl's team. At the half time whistle, we were 3-0 up.
The second half started off just as strongly as the first, and Sudbury hardly got any time on the ball. Shemoya was determined to achieve a hat trick and ended up scoring another 3 goals in the second half! Also adding to our tally with a great strike was Zeyneb.
Final score 7-0 to Byron Court.
Well done to the girls for their amazing performance and we have now won our group and go on to face St. Joseph's in the semi final.
Girl of the Match – Jasmine, constantly going after the ball and providing continued support for the defence and the attacking players.
Team: Jasmine (capt), Natalia, Tashanee, Naomi, Jada, Shemoya, Zeyneb, Chloe, Maira and Abigail
Goalscorers: Shemoya (5), Chloe (1) and Zeyneb (1)