2015/16 Season
The school football team has enjoyed their games up to Christmas. Their record is Played 15 won 14 lost 1, goals scored 61 goals against 12.
This has resulted in Byron Court winning the North Brent 'C' league for the 9th year in succession, and progressing to the quarter final of the Brent Cup after 2 wins against Mitchell Brook and Preston Park.
Well done to Mr. Khalfi and the 1st team squad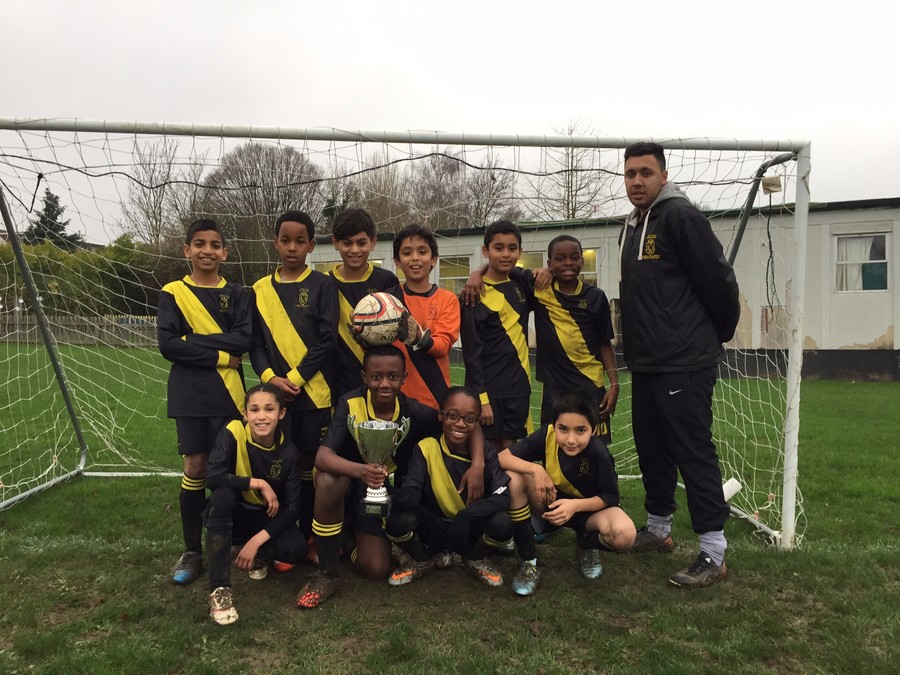 QPR Football League Cup – 12th November 2015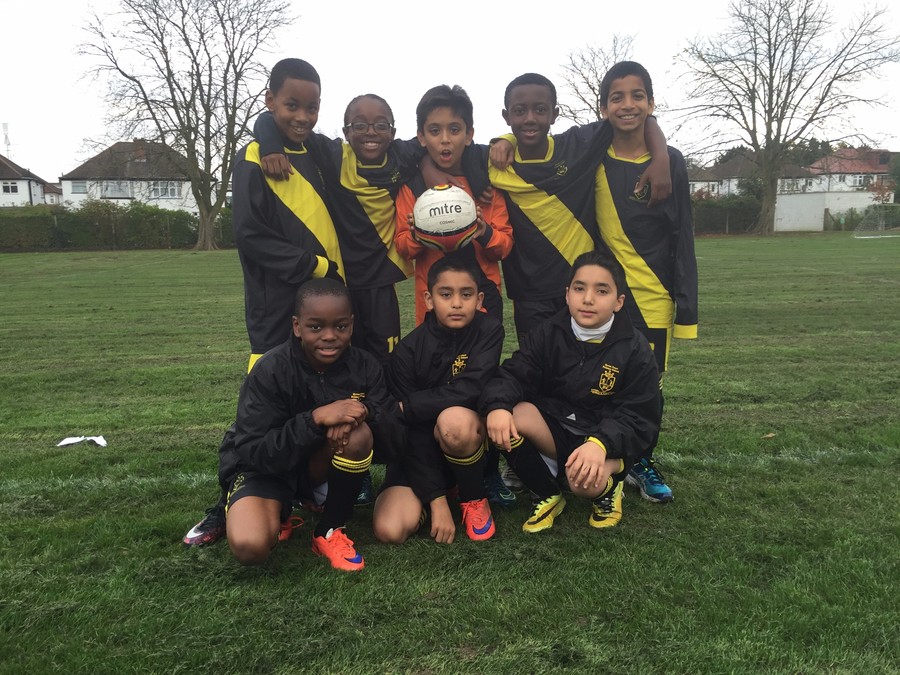 As previous winners in 2012/13, when Byron Court went on to represent QPR at Anfield, this was a tournament the boys were really up for. As a competition that brings together all the best teams in West London, every game was going to be tough.
St Vincent's, Westminster Cathedral, Cowley, Belmore and Wendell Park were drawn alongside Byron Court in Group 4.
The day started well against Wendell Park as James (3 goals) and Saddique (2) ran riot in a game controlled entirely by central midfielder Rashardo (1 goal and 5 assists). Captain Bradley even got in on the act with a spectacular strike from inside his own half to cap off a stunning 7-0 win.
Belmore were next up and despite their aggressive style of play, Bradley and Abdul shone in defence with their solid tackling. Up front Byron Court's forwards were not letting up as both James and Saddique scored again in a 2-0 win.
Cowley were next up and despite being dominated early on, stunned the crowd with a deflected goal to take the lead. But Bradley soon galvanised the team and Saddique scored a great solo goal to level the scores after dancing past 3 defenders and leaving the fourth on his backside! James then scored twice in the last minute as the Byron Court pressure finally paid off. Final Score 3-1.
The Westminster boys (3-0) were next to be brushed aside as James (2) and Saddique (1) continued their impressive scoring runs. Then finally the group was won with a 1-0 win (James) over St Vincent's to top the group with a 100% record. Abhinav twice saved them teams when the scores were level, whilst Byron Court hit the woodwork 3 times before scoring.
It was a long and tiring morning, but the boys still looked up for the quarter-final game against Addison. They had some big boys in their team, but with Abhinav, Bradley (1 goal) and Abdul looking solid at the back and James (3) and Saddique feeding so well off Rashardo, victory was never in doubt as Byron Court triumphed 4-1 thanks to another James hatrick and another cracker from his own half from Bradley.
St Swithun Wells of Hillingdon were next up and unfortunately it seemed a game too far for the tired Byron Court boys. Despite coming from behind to equalise their opening goal (James), Byron Court were unable to come back again when they went 2-1 down and as they all pushed up, they gave away a third to go out 3-1.
It was an incredible effort from the boys to come joint third in a competition with 36 of the best schools in the whole of West London and the school is proud not only of their efforts on the field, but also the way they conducted themselves on the day in terms of behaviour and sportsmanship. A special mention for the substitutes, Tyreese and Jai, who came on and ran their hearts out whenever they were called upon. Well done also to Mr Khlafi for coaching them to play so well as a team so early in the season.
Team on the day: Abhinav, Bradley (c), Abdul, Rashardo, James, Saddique, Jai, Tyreese
World Cup Football Tournament Under 13's, 9 a-side
Sunday 8th June 2014
Byron Court entered this tournament with a squad selected form boys who have played for our school team over the last 3 years.
The squad selected was:
Year 8: Jaevon Braithwaite (capt), Omar Danso, Rashaan Burte
Year 7: Brandon Singh, Mason Spencer, Qasim Khan, Jackson Mainoo, Remi Ogunbayo, Nathan Roberts, Ramiah Davis-Williamson
Year 6: Anish Sharma, Mihir Patel, Rio Whilby, Kamaal Patrick
Year 5: Alfie Bates
There were 8 teams competing drawn in 2 groups of 4. Byron Court were drawn to represent Spain, and given the red and yellow strip to compete in. The other teams in the group represented Brazil, Italy and Germany.
Before the tournament the National Anthems of all the competing countries was played at the opening ceremony, with team captains carrying their national flag.
Spain's first match was against Brazil. It took no time for the boys, who had not played together for some time to start to play some entertaining football, and with the best display of attacking football of the day, Spain beat Brazil 5-0, with a hat trick from Qasim, and 1 from Nathaniel and Remi.
The second match was against Italy, who also won their first match against Germany. This was a much tougher game, but once again a goal from Qasim led us to a deserved 1-0 win.
Our final group match was against Germany. Final score, Spain 4 Germany 0, with 2 goals from Nathaniel, 1 from Mason and 1 from Qasim.
This meant that we were through to the semi final, where our opponents were to be England! In a very tight but exciting game, the score was 0-0 at half time. The Spain coaches made a tactical change and straight away Anish put through Qasim for an excellent goal. England pushed forward for the equaliser, but great defending from Jaevon, Jackson and Rio, and fine goalkeeping from Brandon kept the score at 1-0 until the very last kick of the match when an England player found space in the area and shot low into the right hand corner, 1-1 and penalties to decide the winner.
Omar and Mason scored the first 2, then Qasim missed, but Brandon saved the next 2 penalties from England brilliantly, and Nathaniel and Jaevon scored theirs, for a 4-3 penalty shootout win. We were to play Japan, also unbeaten on the day in the final.
The final proved a very close match and no goals were scored at full time. So to become 'World Cup' winners Spain once again had a penalty shoot out to contend with.
This time we were unfortunate to lose the shoot out 5-4, so ended up runners up in the tournament.
This was a magnificent achievement by the boys, who were the only side representing a school at the tournament. All of the other teams were from club teams who have played regularly together. The defending and goalkeeping was tremendous with only goal let in all day in normal time.
The staff present, Mr. Randeria, Mr. Khalfi, Mr. Jeffrey, Miss Janger, Mrs Khalfi, Ms. Donelan, Miss Nicoll, were all very proud of the boys, who conducted themselves with great dignity during the tournament and were a credit to our school.
A big thank you to all of the parents, brothers, sisters, past pupils for supporting the team so well during the day. But also to Wembley Football Club for organising such a fun day for all present.