Boys' Cricket Team 2015
Over recent seasons the Byron Court cricket teams have been the most successful in Brent.
They arrived at the Brent tournament at Vale Farm with high expectations and did very well to win 4 out of 5 games in the group stage to go through to the semi-finals, where they met a very good Mount Stewart team and were beaten, controversially, by 1 run.
Congratulations to all the boys that took part, Akash (capt), Amar, Anoj, Ashish, Yash K, Harris, Amar, Abhinaav and Yash S and player of the year Vasishta, who all performed admirably on the day.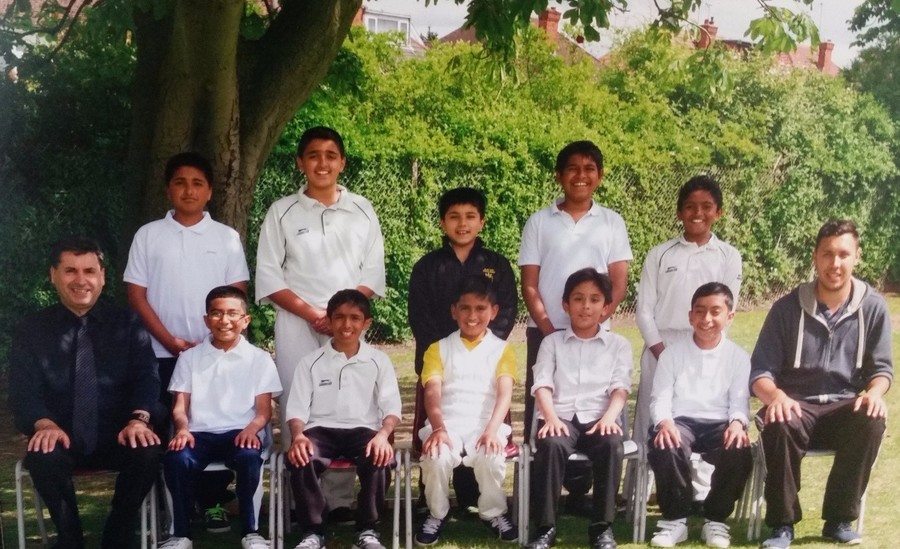 Brent Girls Cricket Tournament 6th June 2014
On Friday 6th June Byron Court Girls Cricket team participated in the Brent Girls Cricket Tournament at Wembley Cricket Ground. The team of eight girls were in a confident mood and were relaxed and had fun throughout the day.
The girls' first match was against Braintcroft. Captain of the team Rashmi won the toss and elected for Byron Court to bat first. Although they seemed slightly nervous walking to the crease, Alex and Kayla played some superb shots as the opening pair that settled the rest of the team and intimidated the opposition. The girls finished their innings with a final score of 273. To match their excellent batting display, the girls were just as good fielding, managing to get 9 wickets and winning the match by 91 runs!
Next for the girls were matches against St Robert Southwell and Wembley Primary. Against St Rob South the girls were finding it harder to find their rhythm, but thanks to a hard earned 23 from Rashmi, Byron Court were confident when it was their turn to field. Once again the girls were superb claiming 14 wickets, with every girl getting at least one wicket each and winning the match by over 100 runs. The girls took this form into the match with Wembley. Some solid batting from Janushana and Damini, and excellent catching from Jasmine and Destine meant Byron Court had won 3 from 3 and went into the final group match against favourites Lyon Park very confident.
In the final game against Lyon Park the girls had to field first, for the first time in the tournament. This didn't matter to the girls as some superb bowling from Janushana and Rashmi, paired with unbelievable catching from Jasmine, Kayla, Alex, Destine and Damini meant Lyon Park lost a vital 7 wickets and left Byron Court needing only 31 runs to win the group. Hana put on a batting master class as the opening bats woman, making sure no needless wickets were given away and frustrating their bowlers. The rest of the girls once again put in a solid performance and easily saw the game through to top the group winning 4 games from 4.
Byron Court was drawn against Lyon Park once again in the final for the gold medal and with their confidence sky high the result was never in doubt. Just as they did in the final group game all the girls were amazing at batting, bowling and catching to make light work of the favourites and deservedly win the final by 35 runs.
The Team: Rashmi (capt), Alex, Kayla, Hana, Jasmine, Destinee, Damini, Janushana.
Brent Mixed Cricket Tournament
Held at South Hampstead Cricket Club, 5/6/2014
The Annual Brent Kwik Cricket Tournament proved to be an exciting day.
Going into the tournament as holders, Byron Court were drawn in a group with St. Joseph's, Oakington Manor and Sir Robert Southwell.
The first game did against St. Joseph's did not go too well. Byron Court batted first and despite scoring well lost too many wickets and finished with a score of 249. St Joseph's scored 289 to win by 40 runs. We made some changes for the second match against Oakington Manor and this time batted far more sensibly to score 288 runs against 240 for Oakington. That made it 1 win and 1 defeat. The next game in the group was against ST. Robert Southwell, and in this we batted first again, The team were given instructions to go out and score as many runs as they could as it could prove important in qualifying through to the semi final. They all batted brilliantly to score a massive 346 runs for the loss of 1 wicket! They then bowled suberbly and allowed Sir Robert Southwell a net run figure of only 207.
We then had to wait to see who qualified as Byron Court, St. Joseph's and Oakington Manor all gained 2 wins and 1 defeat from their 3 games. A big cheer came up from our team when it was announced that Byron Court topped the group and were through to the semi final to play once again against St. Joseph's!
The team was very determined to beat St. Joseph's this team and once again batted fist to score a very good 275 runs. St. Joseph's started off very well but our bowlers started to get wickets and stop their scoring of runs. With one over left St. Joseph's needed 16 runs to win. Musa bowled superbly to stop them getting the runs, and we won by 6 runs to go through to the final.
Lyon Park were our opponents, who we beat in last year's final. However Lyon Parked proved to be an excellent team and turned out deserving winners by 46 runs.
Well done to the team on the day, they did really well to get to the final
Team : Rashmi, Anish, Rio, Visagen, (Year 6) Akash (capt), Amar, Vasishta, Musa, (Year 5), Anoj, Abhinaav (Year 5)
Player of the tournament : Amar , batted and bowled superbly – and took a great catch!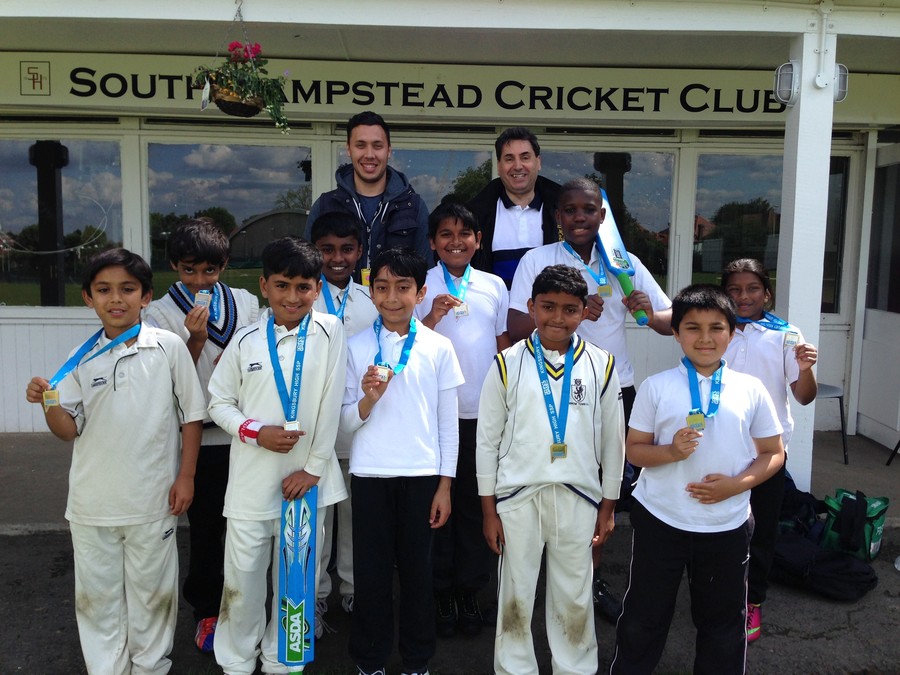 Wednesday 5th June 2013
Once again this annual event was held at Wembley Cricket Club. Twelve schools participated in 3 groups of 4 teams.
Byron Court's group consisted of Brentfield, Wembley and Mora schools. Our boys were on top form and won each game, which consists of 8 overs by over 100 runs.
The other 2 groups were won by Lyon Park and Malorees. The top scoring team of the 3 was to go straight into the final, whilst the other 2 were to play a semi final.
Due to the big hitting of sixes by all of the team led by Minoran, Hammad, Qasim, Sumahan and Akash, Byron Court ended up as top scorers, therefore going into the final. Lyon Park were to be our opponents after winning their semi final.
In the final, as in all previous games, Byron Court batted first and scored 297 runs, with Jaisal, Manraj, Minoran and particularly Shangeay scoring most of our runs.
Byron Court had to field and bowl superbly to stop a very good Lyon Park team from winning. With 6 bowls left, Lyon Park needed 18 runs to win. Hammad, our best bowler on the day, was to bowl the last over, and did so brilliantly. They scored only 8 runs from it, so Byron Court won an exciting final by 10 runs, and now go on to represent Brent in the regional finals at Regents Park.
The team consisted of:- Minoran (capt), Shangeay, Hammad, Jaisal, Manraj, Sumahan, Akash, Qasim, Ibrahim and Shoiab.
Wednesday 30th June 2013
Byron Court Girls Cricket Team won the Girls Brent Best Team Kwik Cricket Tournament. Since the competition was opened to girls teams Byron Court has been undefeated! Well done girls!